Symptom
After importing the csv file to import overall score , received the notification that import failed.
Image/data in this KBA is from SAP internal systems, sample data, or demo systems. Any resemblance to real data is purely coincidental.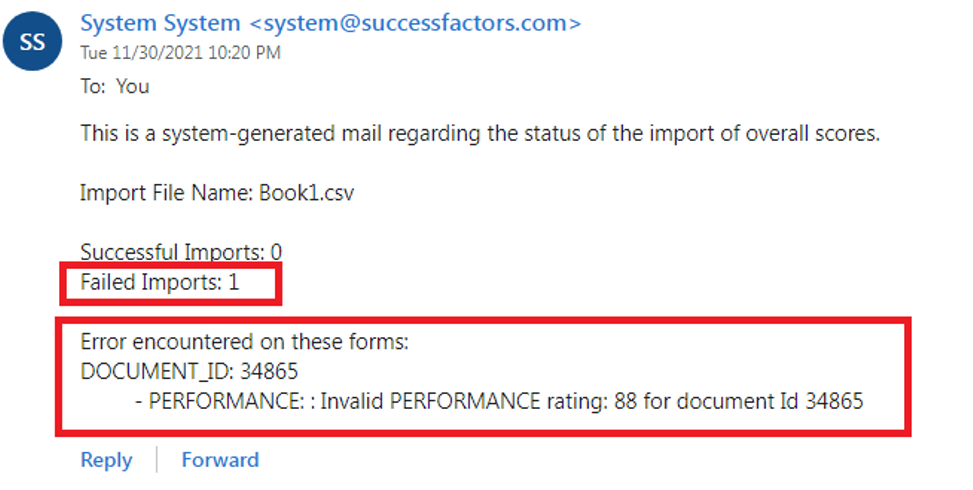 Environment
SAP SuccessFactors Performance Management
Cause
Import Overall Scores supports only actual score value configured in the Rating Scale. In other words, it does not support score value based from the Adjusted Scale Calculation
Resolution
Please encode in the Import Overall Scores CSV file "PERFORMANCE" column the actual value that is configured in your Rating Scale (e.g., 1, 26, 51, 76, 91, or 101).
If your intention is based on Scale Adjusted Calculation such as putting a score of 88, 62, 33, etc., then it is not supported in the Import Overall Scores and such action will just render an import fail stating that the PERFORMANCE rating is invalid.
Keywords
Import overall score, Rating, Performance, Pm form, Overall , KBA , LOD-SF-PM-RAT , Ratings and Weights , Problem
Product
SAP SuccessFactors Performance & Goals all versions