Symptom
Set Up Custom Help Contacts
Admininstrators and IT resources can provide guidance and contact information to end users. This information will help senders answer account questions by putting them in touch with a selected administrator, an IT help desk, or another internal resource that supports DocuSign for your company.
Image/data in this KBA is from SAP internal systems, sample data, or demo systems. Any resemblance to real data is purely coincidental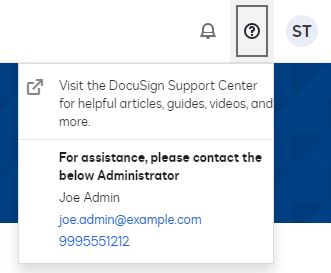 Read more...
Environment
Keywords
Docusign Help Contact?  , KBA , XX-PART-DSN , SAP Signature Management by DocuSign , How To
About this page
This is a preview of a SAP Knowledge Base Article. Click
more
to access the full version on SAP for Me (Login required).
Search for additional results
Visit SAP Support Portal's SAP Notes and KBA Search.